FLY HIGH, DISCOVER CAPPADOCIA!
HOT AIR BALLOON TOUR
A hot air balloon tour in Cappadocia, Turkey, is an exciting and unique experience that offers breathtaking views of the region's unique landscape. Cappadocia is famous for its unique rock formations, cave dwellings, and fairy chimneys, and a hot air balloon tour provides a bird's eye view of this natural wonder.
During the tour, passengers float gently over the rugged terrain in a hot air balloon, taking in the breathtaking panoramic views and capturing unforgettable memories. The tour typically lasts around an hour and covers several miles, giving passengers ample time to take in the breathtaking scenery.
After the tour, passengers usually enjoy a champagne toast or a light breakfast to celebrate their adventure before returning to their hotel or starting the day's activities.
It is recommended to book the tour in advance, especially during peak season, as the number of balloons is limited and tours can sell out quickly. With its stunning scenery and unique experience, a hot air balloon tour in Cappadocia is a must-do for any traveler visiting the region.
Fairy Chimneys: Unique rock formations shaped by erosion and volcanic activity.

Cave dwellings: Homes carved into the rock formations by ancient civilizations.

Valley of Love: A scenic valley known for its heart-shaped formations.

Pigeon Valley: A valley named for the large number of pigeon houses carved into the rock formations.

The Red Valley: Known for its red rock formations and unique landscape.

Rose Valley: Named for the unique rosy hue of its rock formations.

Ortahisar Castle: A large rock castle located on a hill in the middle of Cappadocia.
1-hour Standard Flight is the most popular balloon flight option as it's available daily throughout the year (as long as the weather permits). This flight begins with a pick-up from your hotel about one hour before sunrise. We will travel to one of our take-off sites, depending on the wind direction and prepare the balloon for flight. The inflation takes about 20 minutes and is the perfect time to get some impressive photos of the inflation process in the early morning light. Before taking off your professional, fully licensed balloon pilot will go over the flight information, safety briefing and landing instructions…  Then we're off! The gentle gliding motion of the hot air balloon through the rock formations and up to the low clouds is a comforting sensation. With vineyards, orchards, unique architecture of ancient villages, many diverse rock formations and mountain ranges to see.
After landing we'll celebrate our return to the ground with a glass of local champagne.
The hot air balloons can accept children over 7 years old children but unfortunately not younger than that. And please note that pregnant women also not allowed at the balloon.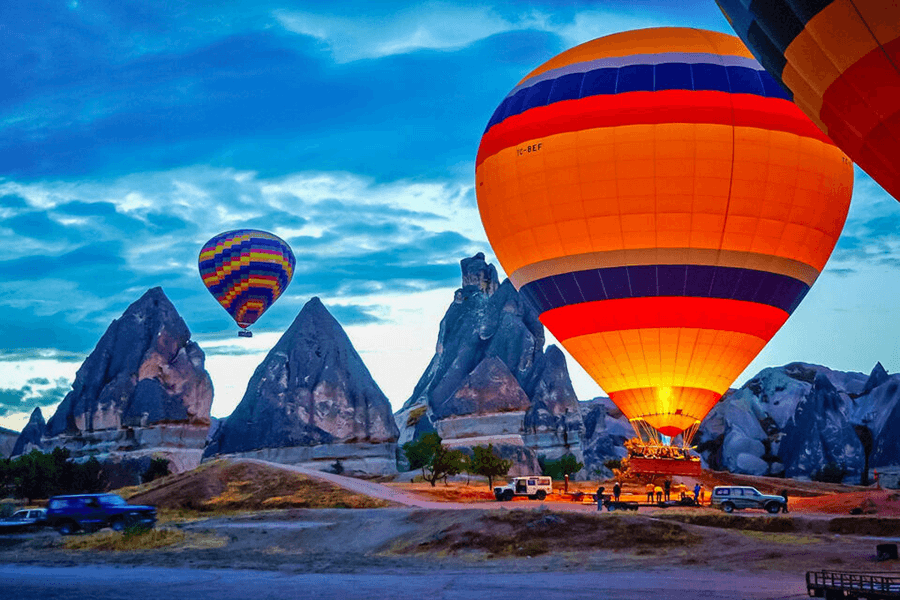 Pick-up & dop-off from your hotel in Cappadocia

Fully licensed professional hot air balloon pilot
Private requests

Guide

Meal

Drinks

Personal expenses

Accommodation

Visa

Insurance

Tips