DISCOVER CAPPADOCIA IN A WHOLE NEW WAY WITH AN ATV TOUR
ATV TOUR IN CAPPADOCIA
ATV (All-Terrain Vehicle) tour in Cappadocia is an exciting outdoor activity that offers visitors a unique way to explore the famous natural landscapes of the region. During the tour, you will be riding on an ATV and traverse through the valleys, rocky terrains, and slopes of Cappadocia, passing by the fairy chimneys, rock formations, and other interesting geological features. The tour usually lasts for several hours, giving you enough time to soak in the beauty of the region and take in its rich history and culture. The ATV tour is suitable for adventurous travelers and offers a thrilling and off-the-beaten-path experience in Cappadocia.
Fairy Chimneys: These are tall, cone-shaped rock formations that are one of the most iconic features of Cappadocia.

Valleys: The region is dotted with beautiful valleys, each with its own unique landscape and geological formations.

Rock Formations: Cappadocia is home to a variety of interesting rock formations, including towers, arches, and caves that have been carved out by wind and water over time.

Panoramic Views: During the ATV tour, you'll have the opportunity to enjoy panoramic views of the surrounding landscapes, including the snow-capped mountains, rolling hills, and other scenic vistas.

Historic Sites: Cappadocia has a rich history, and many historic sites and ruins can be found throughout the region. Some ATV tours may take you to visit ancient monasteries, churches, and castles.

Local Villages: You may also have the chance to visit local villages and meet the friendly people who live there. These visits often offer a glimpse into the traditional ways of life in Cappadocia.
There are various routes available. You can choose the route based on your preference.
You can do the ATV safari everyday from 07:30 to 18:30.
Children under 12 years old are not allowed to ride ATV bikes but can ride with an adult
ATV bikes can be shared by 2 people
1 guide will be given for each 10 people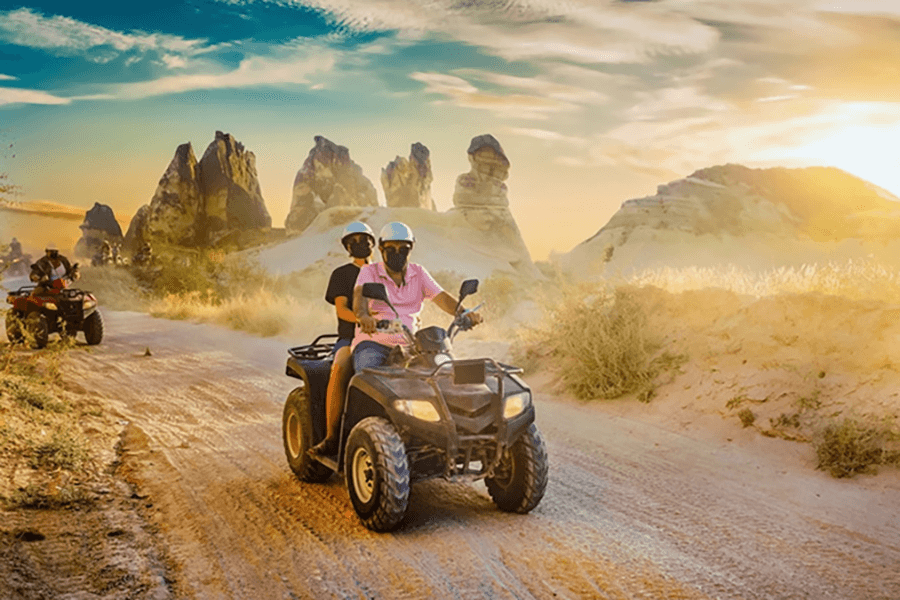 Pick Up-Drop Off Hotel (on demand)

English Speaking Guide
Private requests

Meal

Drinks

Personal expenses

Accommodation

Visa

Insurance

Tips